The Beauty
by Gloria Nagy
One week last spring in New York City, two women died.
This in itself was not unusual. What was unusual, even in a city such as New York, and even in the twenty-first century, was who they were and how they died.
One, unmarried and living alone in an expensive rental on the Upper East Side, was brutally murdered, her face shattered and her fingertips sliced off.
The other, a Park Avenue socialite married to a prominent businessman and mother of a ten year old daughter, committed suicide. She did this by crawling down onto the tracks at the Lexington Avenue and East 59th Street subway station during the height of the morning rush hour and allowing the Number Six train to tear her apart.
I was her brother.
To the follower of such news stories, these deaths might be shocking but wouldn't seem in any way related. But they were.
And that's the story I'm going to tell.
Reviews
Question: What is enticing, thrilling and can cost you a day or a weekend?

Answer: Gloria Nagy's new novel, The Beauty."

—Norman Lear
If every good novel is a mystery story, this particular mystery story has lots of other tasty novelistic virtues going for it—a sense of mischief, sharp social observation, doses of complicated wisdom. The Beauty will have legions of delighted readers."

—Kurt Anderson, author of Turn of the Century
Nagy imagines the present as a burning building which her characters must make their way out of. The Beauty is a terrific fable about the futility of escape, the inevitability of evil, and the power of redemption."

—John Hockenberry, author of A River Out of Eden
"The Beauty starts fast and speeds up. Gloria Nary is a skilled driver on a very scenic road, and keeps her passenger guessing what's waiting around each new turn. It's well worth the trip."

—Forrest Sawyer, NBC News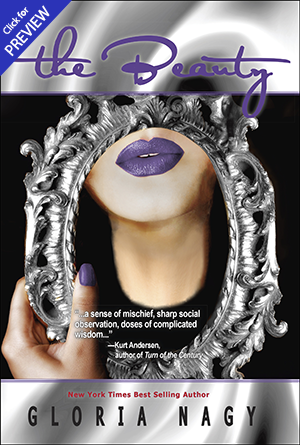 Use Discount Code BWF822MY